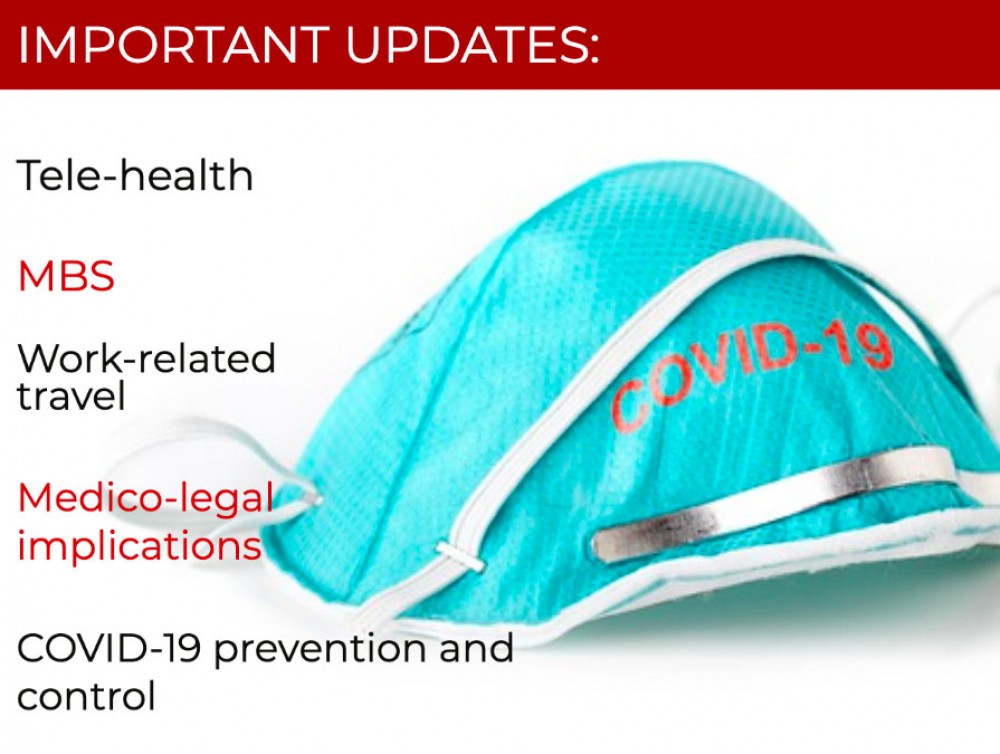 31/03/2020
IMPORTANT INFORMATION ON COVID-19 IN AUSTRALIA FOR DOCTORS
Dear Doctors,
Most of you will be feeling the effects of COVID-19 by now.
On behalf of all of us at Ozhealth, we would like to thank each and every one of you, for your self-less work and efforts in helping Australia and the rest of the world combat #coronavirus. You are all putting your and your families' health and lives on the line, and for that, we sincerely thank you.
As a recruitment agency, although our staff are currently working remotely from home, we are 100% online and still able to provide the same service and care we always have and we will keep on working around the clock with metro, regional and remote communities who are desperately in need of doctors all over Australia.
If you are able to provide face to face or tele-health locum services, whether it is for a few days, or a few weeks, please get in touch by calling us on 02 4969 2299 or email jobs@ozhealth.net.au
We thought it might be helpful at these hard times to provide you with some extra useful information, relevant to the current state of affairs. Therefore, we have compiled summary of available resources about COVID-19, travel restrictions and tele-health, which we hope you will all find helpful and useful.
Please see the latest information and news below.
Yours Sincerely,
Ozhealth Team
TELEHEALTH
Most clinics are rapidly transitioning onto tele-health, which enables many of you to provide consultations from home.
As you know, tele-health exists as a way for people and patients to get a consultation with a medical professional remotely, by internet or over the phone. The use of telemedicine has been on the rise in Australia for quite some years now, more so now during coronavirus pandemic.
Outside of consultations, communications technology has been implemented in many health fields to allow for:
Monitoring. Remote monitoring devices, such as a heart monitor for a cardiac patient.

Prescriptions. Official prescriptions for patients who may not be able to see a local doctor.

Information sharing. Vital information and other important medical details can be shared securely over the internet to improve patient outcomes.

Diagnosis. For example, an ophthalmologist could diagnose an eye condition via a video-call.
The federal government has unveiled a $2.4 billion plan to combat COVID-19's spread here in Australia. $100 million of this has been put towards establishing a new Medicare tele-health consultation service. At present, this is a temporary six-month measure.
Currently, this bulk-billed service is available to anyone who is in home quarantine as a result of current national coronavirus isolation criteria and it's also available to people who have been identified as being at high risk from the virus even if currently healthy, including:
People over 70.

Indigenous people over 50.

People with chronic conditions or immunocompromised systems.

Parents with new babies.

Pregnant women

GPs are now able to bulk bill tele-health services for all Australians.
There are no restrictions on what platforms can be used for the consultation, with phone, FaceTime, and Skype being listed as examples.
Patients can contact any health professional if they are in quarantine or isolation for COVID-19, but otherwise if only vulnerable – they must contact someone they've seen face-to-face in the past 12 months to be eligible for bulk billing.
Allied mental health services are also included on the Medicare schedule for tele-health, to provide further support. Health funds will cover Australians' access to tele-consultations for psychology services during the COVID-19 outbreak from Monday 30 March.
MBS ONLINE / TELEHEALTH
Please see current information RACGP released for GPs in regards to tele-health services:
https://www1.racgp.org.au/newsgp/professional/telehealth-expanded-for-all-patients
http://www.mbsonline.gov.au/internet/mbsonline/publishing.nsf/Content/news-2020-03-01-latest-news-March
https://www.health.gov.au/sites/default/files/documents/2020/03/covid-19-national-health-plan-primary-care-bulk-billed-mbs-telehealth-services_2.pdf
You can also check detailed information on everything on COVID-19 at the RACGP website:
https://www.racgp.org.au/coronavirus
STATE-BASED TRAVEL INFORMATION
As some of you may be traveling to attend locum work or relocating for a more permanent position, it is important that you are aware of the current border and travel restrictions for each state and ensure you organise yourself, prior to traveling.
NSW, ACT and VIC
Borders are still open, however, this may change within the coming days, although like everywhere else in the country, travellers from overseas are required to self-isolate for 14 days.
TAS
All locum doctors due to travel to Tasmania must submit the "Individual Quarantine Exemption Application (Health Service)" application form. This must be submitted within a minimum of 24 hours of arrival or a maximum of 72 hours before arrival into Tasmania.
Applications submitted greater than 72 hours prior to arrival will be rejected, the form then needs to be re-completed and re-submitted within the 24-72-hour time frame.
Assessment of applications is on a case by case basis, taking into consideration where you have travelled over the past 14 days and where you have worked over the past 21 days. Consideration is also given to the role you have been recruited to, the essential nature of the role and the patient/client group you will see/treat. A Locum Medical Officer must not assume an exemption will be granted; therefore, they should not commence the journey to Tasmania without knowing the outcome of their application.
Only Tasmanian residents and essential workers will be allowed aboard the Spirit of Tasmania ferry.
SA
SA Health staff members returning from interstate are required to self-quarantine for 14 days before returning to work.
Exemptions to this may be granted by the Chief Executive of the Department for Health and Wellbeing, where an assessment has been undertaken by the Communicable Disease Control Branch (CDCB) and a recommendation made that the exemption is warranted to maintain a critical service for business continuity.
Twelve border crossings have been established in South Australia to check on people entering the state. In SA, travellers have to sign a declaration about their health and pledge mandatory self-isolation for 14 days. People who live in communities bordering the state will be allowed to come and go, so long as their home towns remain free of coronavirus.
NT
NT will grant quarantine-free entry to only essential workers from other parts of the country. Along with the travel documentation, you need to carry a letter from the medical practice or hospital supporting that you are required in the community.
Arrivals to the Northern Territory will be required to self-isolate for 14 days and must provide details of where they will be staying. Police officers will be placed on major highways to enforce the border closure and will use surveillance equipment to catch anyone trying to come in via back roads.
WA
WA will grant quarantine-free entry to essential workers from other parts of the country, however, each region may risk-assess interstate medical practitioners according to risk of prior COVID-19 exposure and certain clients might have their own requirements regardless of state/territory outlined border closures.
The 14-day self-isolation period is also in place for anyone who is not an essential worker. Tourist hotspot Rottnest Island is being considered as a quarantine zone to keep infected people isolated.
If a doctor is high risk, the health service may determine that self-isolation for 14 days is required.
Risk assessment examples:
Work completed in the previous 4 weeks (Emergency Department – GP practice – patients homes)
Where you've come from (Metro NSW – Metro SA – Rural QLD)
Work to be completed in WACHS and vulnerability of patients/community (Indigenous community – non-indigenous community)
Duration of contract
QLD
Only three roads remain open into QLD with police checkpoints in place on the QLD-NSW border.
Anyone entering by air or road will need to self-isolate for 14 days. But there are also restrictions regarding who can come in, and who can't. Exceptions have been made for emergency workers, emergency vehicles, people travelling across the border for work, freight, court orders including family court, anyone travelling for medical treatment or compassionate reasons
Doctors can apply for a border pass.
For more information about exemption in place for Medical Professionals, please click here
Who is in charge of monitoring people in self-isolation?
In many cases, state health authorities have taken the lead to ensure those in isolation abide by the rules, but the police can – and actually have, in Victoria – conducted spot checks to ensure people are where they agreed to be.
Police also have the powers to lay charges if they believe an offence has been committed.
Border Crossing
A number of Australian states and territories have closed their borders in an effort to reduce the spread of COVID-19, however, as health professionals, you are generally exempt from border restrictions.
Before you travel interstate for your next job, whether it is a permanent relocation, or a locum position, you will need as much information with you whilst you travel to demonstrate your status as a health professional. Documents could include:
Your driver's licence and passport
Your AHPRA card
A copy of your contract (locum or permanent) with the practice / hospital contact information listed
PPE
Please refer to each state to find out more information on travel restrictions.
MEDICO-LEGAL IMPLICATIONS
We have had many discussions with doctors over the last few weeks regarding their concerns around tele-health, and legal implications around insurance etc.
Please see the list of guidelines issued by insurance companies, relevant to the COVID-19:
AVANT:
https://www.avant.org.au/Resources/Public/Coronavirus/
MDA:
https://www.mdanational.com.au/mda-national-coronavirus-advice
MIGA:
https://www.miga.com.au/coronavirus
MIPS:
https://www.mips.com.au/articles/covid-19-update-for-practitioners
TEGO:
https://tego.com.au/covid-19-information-faq/
COVID-19 PREVENTION AND CONTROL HANDBOOK
In the last few days, we have come across this very useful handbook on COVID-19 which details Chinese experiences in prevention and control of the pandemic – download your PDF copy from ResearchGate: https://lnkd.in/g6NCDCs
Return to Blog